Obtaining a Veterinary License in the United Arab Emirates
Blog
0
more than 3 days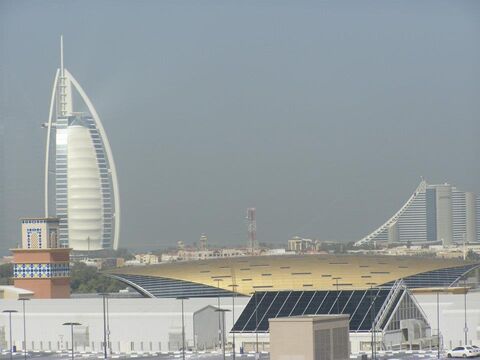 One common source of frustration is the time it takes to obtain a license. The process can extend for over a year; however, there are cases where licenses have been granted within three months. In any case, it is crucial to keep this in mind if you are seeking employment in the UAE. If you are considering relocating to Dubai, prepare the necessary documents and commence their attestation procedure. This will save time and put you in an advantageus position compared with other candidates .
As of now, the necessary documents include:

1-Certificates for the last three years of high school (secondary education) attested by the UAE Embassy in the country where they were earned.

2-Diploma attested by the UAE Embassy in the country where it was obtained.
3-A five-year degree transcript (an academic record that lists all the modules or subjects you studied in each year, the marks or grades you achieved for each module, and the credit value and level of each module). It should be stamped or signed by the registry of your university and be on official letterhead. If you do not have an academic transcript, you will need to contact your previous university to request one.
4-Reference letters from previous employers, confirming employment dates and roles. If not in English or Arabic, these need to be translated and attested.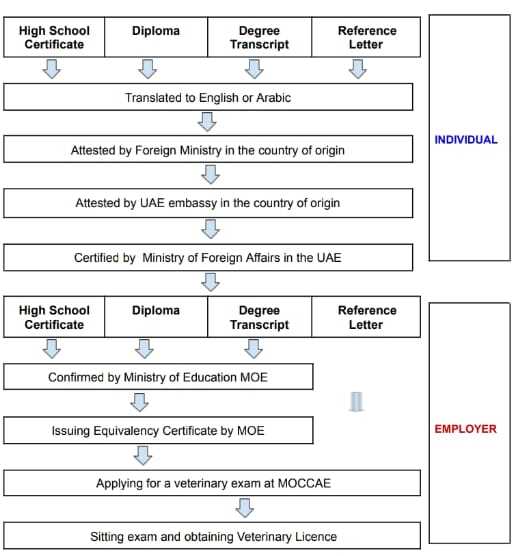 All the above documents must be translated if they are not in English or Arabic (a legal translation is required) and attested by the following authorities:
1-Foreign Ministry in the country of origin.

2-UAE embassy in the country of origin.
3-Ministry of Foreign Affairs in the UAE (MOFA).
You have control over the process up to this point. Once you submit the above documents, it is up to the official channels to confirm your higher education, and your employer to apply for a license with MOCCAE (Ministry of Climate Change and Environment). First, you have to receive an equivalency certificate issued by MOE (Ministry Of Education), then your employer will apply for a veterinary license with MOCCAE, who will provide exam dates within a few weeks. Depending on your experience, your sponsor will apply for:
-A Full Veterinary License if you qualified at least 5 years before.

-A Veterinary Technician License if you are able to provide at least one year of post-graduate experience. Veterinary technicians are allowed to work only under supervision. Practically, it means that they can work only when there is another fully licensed vet present in the building, making sole charge impossible.